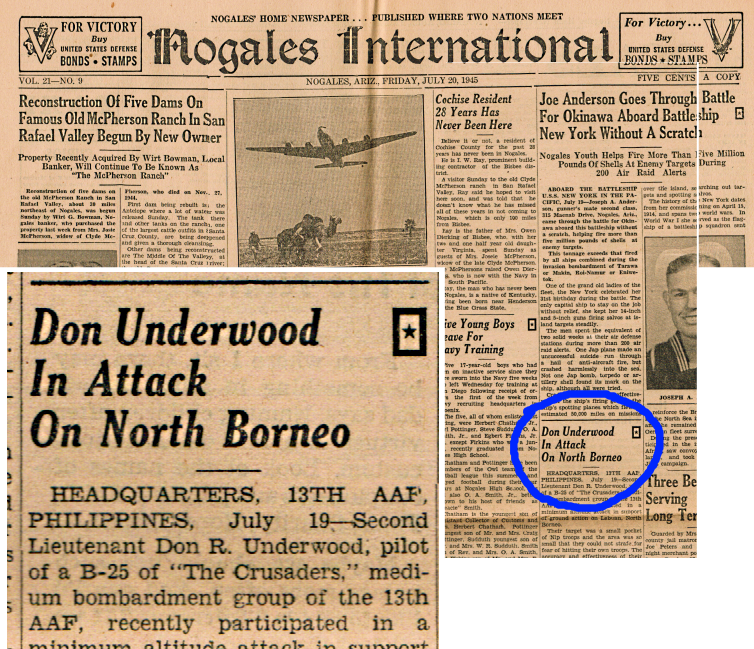 Sister Kris recently went through newspapers that DRU saved — all without comment or annotation by him, so far as I could detect. Since tomorrow would have been his birthday, I thought all would be fascinated to read an account of a Borneo (now part of Malasia) raid he flew, reportedly, in July 1945. The story appeared in his local newspaper on the front page of the Nogales International. The "Crusaders" were a nickname for the 42nd Bombardment Group of the Army Air Force.  This force was part of the Battle of North Borneo, well described in Wikipedia.
Don Underwood in Attack on North Borneo
HEADQUARTERS 13 AAF, PHILIPPINES July 19 Second Lieutenant Don R. Underwood, pilot of a B-25 of "The Crusaders," medium bombardment group of the 13th AAF, recently participated in a minumum altitude attack in support of ground action on Labuan, North Borneo [Google Map].

Australian Troops in Labuan North Borneo 1945

Their target was a small pocket of Nip troops and the area was so small that they could not strafe for fear of hitting their own troops. The accuracy and effectiveness of their bombing was reported the next day when the Australian troops moved in to mop up.

A total of 397 Nip dead were counted and 18 slightly dazed Japs were taken prisoner, along with one giesha [sic] girl.

Lieutenant Underwood has completed over 13 missions over enemy targets in the Halmaheras [Google Map], the Celebes [Google Map], Borneo and the Philippines since joining his organization in April 1945.

Lieutenant Underwood is the son of Mrs. Ellen C. Underwood of 106 Alameda Street, Nogales. –Nogales International,  1945-07-20.
Related: Bomber Training in Montana
Related: How to Fly a B-25