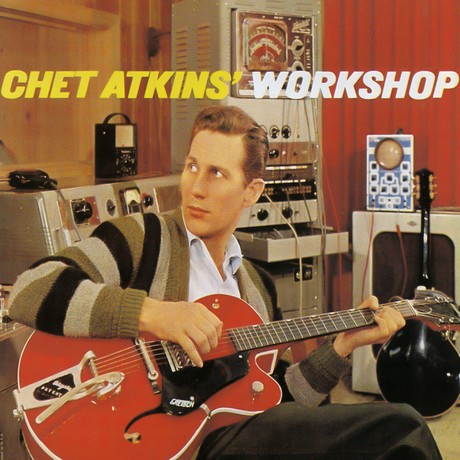 DRU was a big Chet Atkins fan, but this then-LP probably got more play from his oldest son, who had to get his own copy soon enough. According to the Wikipedia page on the album, it the studio was pretty bare by today's standards, but the results speak for themselves. There is a review on AllMusic, which reports that this was Atkins' best-selling album.
". . . Much of [the studio] built by Atkins himself: a small maze of mixing panels, a three channel stereo tape recorder, a one channel recorder."
The YouTube playlist linked to here may not remain up for long, so apologies in advance, but give this a try.
You can purchase the CD on Amazon.
DRU owned a guitar, but AFAIK he only played prior to the move to Edgemont. On the other hand, both Mark and Ross were struck by the bug.
Album Review:
Chet's Best-Selling Album Still Performs Its Frown-drowning Magic
This is Mark's review of the album (see also on Amazon's page)
Wikipedia advises that, over the course of a highly productive recording career, this album was his best-seller. I am biased, but as one who owns perhaps half a dozen of his other albums, I must agree. I first heard this as a child (hence the sentimentality warning), but after being reminded of this album by a blog post, I sought out the CD on Amazon, and, while I don't use the term lightly, I'm overjoyed.
Sure, the album has a "country" feel to its arrangements, drum parts bends, and to a lesser extent, the song choice. But the playing sounds so effortless, the delay, tremelo and reverb effects in this pre-electronics era are light years ahead of their time (obviously he educated himself by studying Les Paul closely). "Goofus," and "Whispering" own their country roots, while "Lambeth Walk," and "Theme from 'A Summer Place" reach for a broader audience.
If electric guitar timbre is as important to your listening pleasure as the notes, the combination of good song selection, playing and recording excellence will not disappoint. The Gretsch (assuming it's used throughout) shows its variety across high, low and midrange, In "Tammy," you'll hear it put to full, grinning, use.
Thanks for buying that record, I'd say to my late Dad (but I don't recommend vinyl!).